ISO 20000:2011
Introduction to ISO 20000
Lakshy Management Consultant Pvt. Ltd. is one of the largest and leading ISO 20000 consultants in India. We are transnational ISO certification consultants with clients in India, USA, UK, Saudi Arabia, Kuwait, Middle East, Europe, Africa, Australia, Singapore, Hong Kong, UAE, Qatar, Oman, Russia etc. We provide quick, result oriented and easy to implement consultation and training for ISO 20000 certification.

We have been associated with organizations across the world for their ISO 20000 certification project. Whether you are a small organization or a multinational corporate, our proven consultation solutions will ensure that you implement ISO 20000 standard in the most effective manner with timely project completion.

ISO 20000 IT service management system implementation with the consultants and experts of Lakshy Management Consultant Pvt. Ltd. not only assures 100% successful ISO 20000 certification but also improves process performance and business operations.

Consultants of our organization assist your company in your IT service management context through ISO 20000 certification to get your company ISO 20000 certified quickly with the ease of implementation and in the most cost effective manner. We make sure that ISO 20000 standard implementation does not just become a documentation activity but also a way of life for the organization that lays a foundation for Total IT service Management and IT service conscious organizational culture.

We offer onsite and online consultation solutions for ISO 20000 certification. Our customers have been utilizing our services not only for initial certification consultation but also post certification consultation to ensure that our consultants regularly add value to the business processes of our customers and their process & quality standardization initiatives.

Our ISO 20000 certificate consultation services include awareness training, IT service policy - objectives workshop, gap analysis, documentation design including manuals, procedures, work instructions, formats etc., implementation assistance & training, internal auditor training, lead auditor training, assistance in conducting internal audit, pre-assessment audit and everything required to ensure a 100% successful ISO 20000 certification audit within scheduled project completion time period.

Biggest benefit an organization gets out of ISO 20000 is improvement in business process control through process standardization. No matter what benefits you are looking for from ISO 20000 certification, we will make sure that your organization benefits from ISO 20000 implementation and certification.
ISO/IEC 20000 – IT Service Management System
ISO/IEC 20000 is the first worldwide standard specifically aimed at IT Service Management. It describes an integrated set of management processes for the effective delivery of services to the business and its customers.

ISO/IEC 20000 is aligned with the process approach defined within ITIL from the Office of Government Commerce (OGC).
ISO/IEC 20000 consists of two parts:
ISO/IEC 20000-1:2005 is the formal specification and defines the requirements for an organization to deliver managed services of acceptable quality to its customers. The scope includes:
Requirements for a management system;
Planning and implementing service management;
Planning and implementing new or changed services;
Service delivery process;
Relationship processes;
Resolution processes;
Control processes;
Release processes.
ISO/IEC 20000-2:2005 is the Code of Practice and describes the best practices for Service Management processes within the scope of ISO/IEC 20000-1. The code of Practice will be of particular use to organizations preparing to be audited against ISO/IEC 20000 or planning service improvements.
ISO/IEC 20000 Contributions
The ISO/IEC 20000 standard is being adopted globally by hundreds of companies and organizations already. Many have even been certified not only to use the certification as a marketing advantage, but more often to show the customers that the IT department/organization is taking the quality of services seriously. Below you will find a list of benefits of the ISO/IEC 20000 standard:
When comparing IT service providers, ISO/IEC 20000 provides uniform and common language as well as a norm for benchmarking.
When selecting an IT service provider, an IT organization can express added value when offering its services and distinguish itself from its competition.
When an IT department/organization is looking for ways to better understand the needs of the customer, ISO/IEC 20000 can be a norm to improve IT governance.
When in need of guidance to determine which best practices to focus on first, when adopting industry practices to improve the effectiveness and efficiency of the IT department/organization.
When seeking increased transparency of IT service provision costs, risks, IT budgets and costs.
When looking for ways to implement changes faster and more effectively, and when seeking for a norm to improve efficiency and effectiveness.
When attempting to align the IT department's/organization's services to a third party's services, creating a uniform chain of services from a process perspective.
When looking for an effective method and uniform guidelines to outsource a well-aligned process interface and common & consistent nomenclature.
When seeking a norm for reliable and available quality IT services.
When looking for evidence that IT's processes are in compliance with international financial and security norms, rules and regulations.
When going for a broad range of quality improvements within the IT department/organization, as well as boosting IT's professional image.
When looking for an independent and non-biased baseline to weigh service providers against and use it as a norm.
Most likely you will find a reason to get your organization certified while going through this list, which meets your short and long term service quality improvement needs.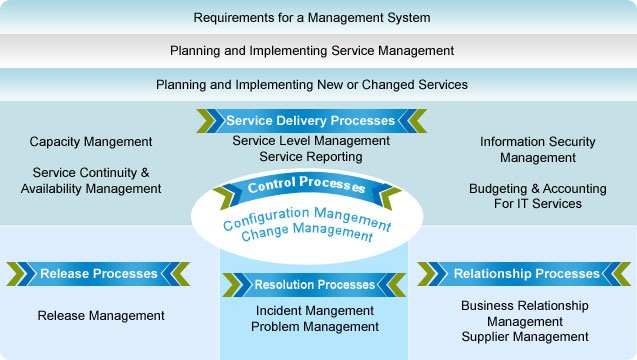 ISO/IEC 20000 Benefits
ISO/IEC 20000 provides a framework and systematic approach to managing the IT Service Management processes to deliver an IT service that conforms to the customer expectations. Implementing ISO/IEC 20000 improves the effectiveness and efficiency of the business process and saves money too. Most companies implementing ISO/IEC 20000 have experienced an increase in process efficiency, higher customer satisfaction, and improved service quality. An ISO/IEC 20000 certified IT department or IT organization complies with globally accepted norms regarding the development and the delivery of IT services. For customers, it will become easier to compare these IT service providers. There are many other benefits of being certified or simply using the standard, even when not seeking certification. Below, you will find a few examples.
To qualify for new customers; more and more companies and organizations consider ISO/IEC 20000 certification an essential requirement for conducting business with a new vendor.
To enter global markets; the ISO/IEC 20000 standards are widely recognized.
To objectively measure the level of compliance with industry's best practices.
To have better information available for numerous purposes.
To streamline various process improvements that may go on simultaneously in an IT department.
To provide guidance, prioritizing the best practices to be implemented in an IT department.
To give a company or organization a competitive edge.
To show a drive for quality services.
To objectively assess and benchmark IT's level of maturity.
To increase customer focus and transparency of value provided to the business.
To establish a mentality of continual improvement in IT.
The Certification Process
The ISO/IEC 20000 certification process consists of seven steps:
Complete a questionnaire.
Apply for an assessment.
Conduct an optional pre-audit.
Conduct an initial audit (stage 1).
Conduct the certification audit (stage 2).
Conduct surveillance audits.
Conduct the re-certification audits.
What do we offer for ISO 20000 Certification for your organization?
With a team of highly qualified consultants and trainers having vast industrial experience, Lakshy Management Consultant Pvt. Ltd. assists organizations across the world to implement and achieve ISO 20000 certification. Our consultation approach is highly professional, time bound and effective resulting in ease of implementation and adds value to the business processes of the client's organization.

We offer ISO 20000 training, implementation, consultation, gap analysis, documentation, internal audits, pre-assessment audits, certification audit through best of the certification bodies and post certification enhancement / maintenance services to enable your organization to get the best out of ISO 20000 management system. Our services are globally accepted, authoritative and benchmarked in the field of ISO 20000 :

Contact us at info@lakshy.com to get your organization ISO 20000 certified.